Products > 6 Bar Galvanized Utility Corral Panel XT - 6ft 2inches

Great for round pens, overnite shows, arenas, paddocks, stalls, and trail rides.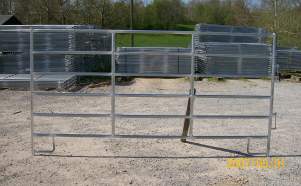 Corral Panel Features
6ft 2 inches extra tall for easier clearance with 2 vertical braces for added strength
Square Top Design (no rounded corners)
Safety Caps over top pieces
High Tensile Steel Tubing with continuous welded saddle joints
High Quality galvanized tubing 1.75 diameter with continous welded joints 360 degree welds.
Custom built with mud legs at bottom to help prevent sinking
Welds touched up after production
Quick pen latch system (no loose pens to keep up with - held in place with washers)
Note: All weights and measurements are approximate.